Authentic Spain
A county of contrasts – Full day excursion.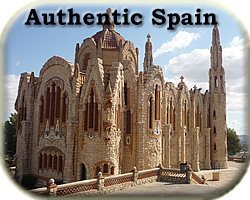 This the best excursion if you want to learn about the real Spain.  See what rural life is really like in the picturesque inland villages in of the Alicante Province, where everyday life bears no resemblance to the coastal tourism of the Costa Blanca.
Along the route you will see vines and impressive medieval castles from the Muslim era until you arrive at Villena.  In Villena you will visit the archaeology museum and see the Treasure of Villena, gold, Silver, Iron and Amber pieces dating from the Roman occupation.
Visit a luxurious bodega and sample the exquisite wines from this region of Alicante.
From there you travel to Novelda where you will visit a beautifully conserved Art Nouveau house from the 1900's plus a visit to the most important attraction, the Gaudi Style Church of St Mary Magdalene from where you can admire the panoramic views of the surrounding area.
INCLUDED: Entrance to the Museum in Villena, wine tasting at the Bodega and the visit to the Modernist Styled House in Novelda.ista en Novelda.
NOT INCLUDED: Food and drinks.