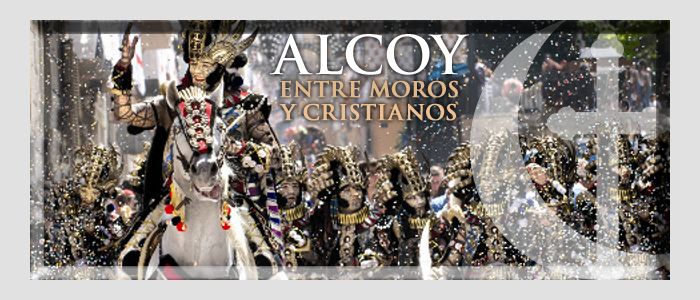 Visit Alcoy famous for the unrivalled fiesta of the Moors and Christians! An unforgettable experience! An incredible live spectacle with a great atmosphere!
Alcoy has celebrated their Moors and Christians festival for over 250 years and the event was declared to be of International Tourist Interest in 1980. The spectacular fiestas unite the whole town as they come out to celebrate their history and to revere the town´s Patron, Saint George, with breath-taking parades, amazing costumes and music.
According to local history, the origins of the festivities go back to an uprising of the moors living in the area in 1276 and that on the 23d of April 1276, St George's Day, the Saint miraculously intervened and helped to defend the town again the Al-Azraq attack.
The three day festivities are held every April and this excursion takes you to Alcoy on the day of the "Entradas" or "arrival of the troops".  You will be able to watch the parades of both the Moors and Christian troops in all their splendour.   The coach departs from Benidorm in the afternoon and returns at 23:30 approximately. 
Tickets must be purchased a minimum of 2 days in advance.
Children 03 - 12 years of age.
IMPORTANT: Please ensure that you print out your ticket from the screen or from the email which will be sent to your e-mail address.  You need to present  this to the guide on the day of the excursion.